How to draw a snail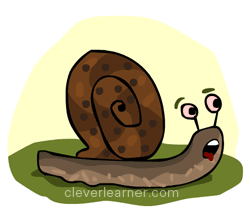 The features of a snail makes it an interesting subject for drawing. The shell, eyes and body all make it easy to get your drawing to look like a snail. Here are some really quick steps to try.
1. Start with getting a long rectangular body with one end curved a little bit upward. That will be the head at some point.

2. Now, draw the shell, with a spiral feel to it. It can be big or small, that should not matter.


3. Fix the snail's big eyes. This is just a character so feel free to experiment with all sorts of eye effects. At this stage, you are done with it, but we shall go ahead and throw in some colour and textures.
4. Colour the base of the snail with green to make the snail sit. That is the foreground. Foreground is always a great way to make an object sit. Now colour the snail's shell too.



5. We want to add form to our drawing so that it looks a bit more three dimensional. Try this by adding some variations of colour to the drawing.
6. Finally give the snail an expression. The mouth is a good way to do this. Make it cry, make it happy or sad... just try it. Did you notice that I added some more textures to the shell?



Looks great... yes? Have fun!